My Halloween Candy Top Ten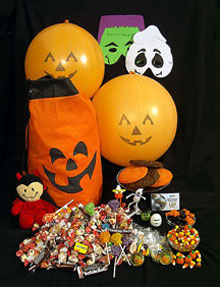 In honor of Halloween, I've decided to post my Top Ten List of the best candy. Since I am a self-proclaimed sugarholic, I know candy
10. Candy Corn – A Halloween staple of which I was never a big fan; it's just too sweet. It was one of my younger sister's favorites.

9. Butterscotch – This hard candy goes a long way………….

8. Bazooka Joe – The gum doesn't last very long, but is tasty & I really like the comic strips.

7. Jawbreakers/Gobstoppers – Large and small, these are fun, but could break some teeth.

6. Whoppers – Chocolate and malt always work well together.

5. Caramels – Melt them down & put them on apples or eat them straight out of the bag, caramels are wonderful, milky goodness.

4. Sweetarts – Hard, gummy or chewy, Sweetarts rule. At Easter there are jelly beans and they are out of this world!

3. Nerds – This one is just fun. Tiny little pieces of tart and sweet goodness. I prefer the grape/strawberry combo myself.

2. Tootsie Rolls – For that quick chocolate fix, this candy is perfect.

1. Smarties – These are the best! They're made with more natural sugars than other candies, so even those who have problems with refined sugar, like myself, can have them sometimes.
So, those are my top ten favorite Halloween candies. To be honest, I love lots more, but these are ones that just remind me good times Trick or Treating with family and friends.
Relevant pics from Flickr
Related News
Your Halloween Candy Portfolio – TheStreet.com
List Ranker – Rank 'Em: Halloween Candy – ESPN
The Nooner (October 31) — Halloween Candy and John Candy Because … – Goal.com
He gives $1 a pound for Halloween candy – MLive.com
Halloween Candy Meltdown Time How do parents deal with all the … – San Francisco Chronicle
Halloween candy is a magical recipe ingredient – The Grand Rapids Press – MLive.com
Did your parents limit the amount of Halloween candy you ate? – Lawrence Journal World
Halloween Candy Tips – WMBB-TV